Most of the the women I work with come to me because they feel powerless with food
, or are consumed by a less-than-stellar body image that is taking up so much of their time, energy and attention that it feels like a horrible part-time (or even full-time) job.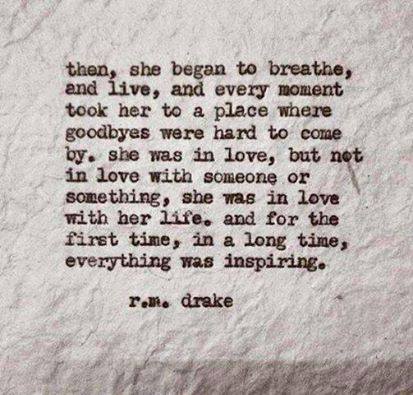 When I first met Diane (name changed to protect the innocent), that's exactly where she was. She was obsessed with trying to shape-shift her body into a certain form, yet all she saw when she looked in the mirror was fat and repulsive. She was even afraid to exercise because it seemed to make her body bigger not smaller. She was convinced that there was no way she could be happy with herself until she found a way to lose weight. She wanted to crawl out of her own skin.
Naturally we got right to work on body image, and quickly discovered that this whole thing was not about her body at all. (Shocker!)See, in most cases, this whole obsession with food and body is a smokescreen. It's a handy distraction to pull our attention away from what we are truly hungry for.And what I've discovered in my private work with dozens of women (self included) is that we pretty much hunger for the same 3 things:
Love. Connection. Purpose.
It may come in different shapes and sizes for each of us, but it distills down to these core desires.
We yearn for these things, yet at some level we don't feel worthy of receiving them. And if we do get a taste we often quickly push them away (my post-speech meltdown case in point, as is the fact that almost 99% of people who lose weight on a diet gain it back). And we may assume we need to seek these things outside of ourselves, but nothing is further from the truth.
In Diane's case, she longed for a loving relationship. And yet she had made her ability to experience that conditional on changing her body. Her body was rebelling, literally! I knew we had to find a new lens for her to view herself through, both so she could find relief from her self-abuse around her body AND be able to attract a relationship that would truly honor her.
So we started with a perspective shift. I gave her a powerful exercise to adjust her focus and see herself through new eyes. It wasn't long before things started to shift, both physically and internally.
We worked together for several months, and here's the note I received from Diane last week:
"I'm truly loving this new relationship I have with myself. I've never felt this way before. I'm flying emotionally high and it's out of this world. The restlessness, self criticism, loneliness, fear and hopelessness is gone! I like who I am and feel valuable. I know those old feelings will try and creep back in from time to time, but I know what to do now. I no longer feel powerless. Thank you so much for all your support and love. Even after these months of not having our calls, you still are with me. :)"
Imagine the type of partner she is going to attract now!
This is what's possible when you adjust your lens, when you face your hungers, and when you choose to view your challenges as blessings in disguise. Diane learned that her body image symptom was simply her soul's cry for truth and nourishment. And instead of staying attached to "finding the right diet or exercise" to fix her body, she answered the call. And she got everything she wanted and more.
Wouldn't you like to taste that too?To get you started, here is the exercise I gave Diane to begin our work together. I call it the Body Image Prayer, but it can be used in any situation in which your image of yourself is causing you doubt or pain.
Dear [God, Spirit, Goddess, Life, Universe, etc.], please heal my vision and show me myself through your eyes.

Write it out by hand, 30 times in a row, twice a day for 3 days or until you feel a shift. But write it by hand, over and over, and watch what happens inside of you.

As you focus on the words and the subtle movement of pen to paper, from the in-between spaces new insights start to come through. A doorway is opened for your soul to speak to you with the gentle voice of truth. Your true source of power and value re-emerges. Your next steps are revealed to you. You receive nourishment. You experience Grace.
This prayer has never disappointed me, it even helped pull me out of my funk last week! And so I wanted to offer it up to you today, wherever you are, to keep in your back pocket for the next time you need to see yourself, clearly.