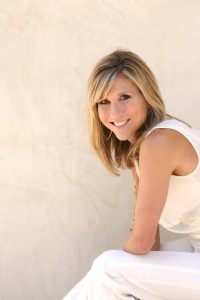 I satisfied my hunger for learning by… becoming a certified Food Psychology Coach (and no, that doesn't mean I put food on a couch and ask it about its childhood!) It means I have special training in how our mental and emotional state profoundly impacts the way our bodies respond physically to what we eat. I've also got stellar ICF-accredited coach training from the Coaches Training Institute, and a degree in psychology. So, yeah, people are kind of my life's work.
I get turned on by… all things deep and mysterious. I'm a spiritual hipster, a personal growth junkie, a lover of the metaphysical. One of these days I need to go back to reading trashy fiction, but for now everything on my nightstand oozes transformation.
My biggest life lesson to date has been… My own journey to freedom. After 20 years of struggling with bulimia, I finally got the message it was trying to share with me. And you know what? It had nothing to do with food. It had everything to do with permission.
My inspiration comes from… Success stories. Possibilities. And people who are able to create music and lyrics. That inspires the S–t out of me!
The best compliment I ever received was… "You're smarter than you look." I laughed so hard I snorted my beverage out my nose. I kinda agree, but that can be our little secret.
I have an insatiable appetite for… raunchy comedy. I can find a Saturday Night Live reference for just about any life situation.
When I was younger I wanted to be… a rock star or stand up comedian. I've had to settle for Karaoke queen. And I'm loving being a crooner of personal growth and possibilities.
What truly nourishes me is…
A deep conversation over a great bottle of wine
Running outdoors on a bright sunny day – no iPod required
My soft flannel leopard print sheets
A beautiful, colorful meal made with farm-to-table ingredients
Friday night solo dance parties in my living room
Choosing love over fear
Teaching & sharing everything I've learned
Seeing my clients blossom into radiant, empowered, nourished women