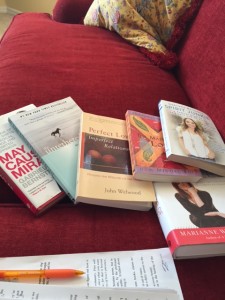 I'm a total dork. I'll admit it, I am almost always surrounded by piles of personal growth books… they're on my bed, piled on my desk, and strewn all about my meditation space. One might say that in the way I used to binge on food I nowbinge on personal development (a much healthier habit IMO!) My kids think I'm weird, and they're probably right.
But what can I say, I love to learn (and then teach what I learn) and one of the things I most love to learn about is that mysterious thing called 
romantic love
.
In fact, many of the women who come to me for food challenges soon realize that what they are really hungry for is LOVE. Right under that unwanted weight or eating habit is a longing for love and belonging that they haven't yet been able to give voice to or bring into their experience.
(It's actually a no-brainer – of COURSE we turn to food as a substitute for love! The association between food and love is hardwired into our brain. Think of how a baby is fed – it's also being held and loved. So let yourself off the hook for that right now.)
And I'm no different. As I look back now, I see clearly that all the years I struggled with binge eating I was really starving for the love that didn't know how to create within myself or with my ex-husband.
And that's the thing. Many women think that the love they are seeking is going to come from someplace outside of themselves…  a more responsive husband, a new perfect partner, parents who finally understand them, etc. etc.
And to be honest, I really resisted the whole "you have to love yourself first" thing, for a long time. But I've come to realize that it is absolutely essential.
That's not to say that you have to feel totally in love with yourself every day in order to experience great love with someone else. That's just unrealistic!
But what you DO need to do is be loving toward yourself and recognize the love that is already there. This acts like a magnet to attract – you got it – more love!
So how do you begin? Here are 3 practices to help increase love in your life, all on your own.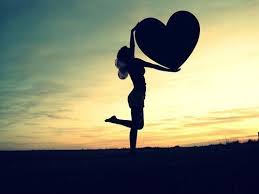 1. Practice the Reverse Golden Rule: You know that saying "treat others the way you would want to be treated?" Well for most women the challenge is the opposite! We need to treat ourselves the way we would treat another.
If a friend came to you feeling down because she ate a bunch of sugar again, would you call her a big fat loser or tell her she was a willpower weakling? HELL NO! You'd remind her that she's awesome, and that she's doing her best.
When you are feeling down, frustrated, disappointed, instead of bashing yourself, write a note to yourself in your journal, and say exactly what you wish a close friend, parent or partner would say to you – the 
exact thing
 you most want to hear.
2. Go on a love harvest:  This is one of my favorite exercises to give to my clients. Start to look all around you in your daily life and notice every occurrence of love that you experience. A phone call or text from a friend, an invitation to a gathering, a thank you from your boss, even a smile from a stranger. And notice things that YOU love too! When you start to really pay attention you'll be surprised at how much love is all around you. It's especially fun to keep a little journal for a few days and watch the love pile up!
3. Practice loving the unlovable: We all have parts of ourselves that we think aren't good enough or are downright unlovable. But rejecting aspects of ourselves never works. And when it comes to attracting partners we tend to attract people who reflect our own self-rejection! So how do love what seems unlovable? You just begin…
That annoying craving or eating habit you just haven't been able to shake… send it love for what it's trying to do for you. It's really just trying to bring your attention to where love is lacking. For example, maybe you haven't been speaking your truth or honoring your need for rest, or taking on too much at work.
Every pound of so-called "extra" weight on your body… send it love, for it represents your life force energy and personal power stored up and ready to be expressed in the world.
That secret hunger in your heart, that desire you feel afraid to name out loud… whether it's a loving relationship, a dream business, a trip around the world, a desire to serve – send it love. For it is leading you home.
When you begin to reconnect with the love inside of you, you become a magnet for more love from the inside AND the outside.  And as a side benefit it becomes easier and easier to make choices that truly nourish you, both with food, with other people, and in life!
Want to learn more about creating loving relationships this Valentines?
Here's my recommended reading list. It'll totally transform the way you view your relationships – current, past and future!
Happy reading, and HAPPY VALENTINES DAY! xoxo