Y
Last week I shared with you how I've been on a bit of a forced time-out recovering from unexpected surgery, and I'm so overwhelmed by all your kind words and messages of support and healing – thank you!
Here's one of the wonderful things that happens when you take time to rest and reflect…   space opens up for fresh new ideas to flow through.
And that's exactly what happened, and I'm so excited to share it with you!
So here's my idea…
Every once in a while teacher comes along with a message that completely changes the game for you.    For me that teacher was Marc David (founder of the Institute for the Psychology of Eating, where I later trained intensively), and the message was his groundbreaking book, The Slow Down Diet (really NOT a diet book, at all).
Early in my healing journey with food, it was THIS book that gave me the permission and the tools to Live & Eat Fearlessly, and it's these very practices that obliterated my daily urges to binge and abuse myself with food, virtually overnight.
The principles of this book are at the core of my personal Live & Eat Fearlessly practices, and along with some other teachings have provided me with uber-transformation in how I eat and live.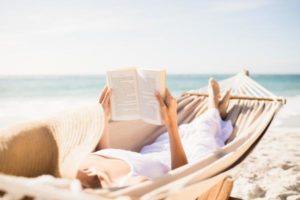 And yet I'm feeling the need to read it again, as I've realized that with the bustle of life I've drifted away from some of its wisdom – and summer is the perfect time to do that! (Don't you just love having an amazing summer read?)
And I know that you may be curious about this whole Psychology of Eating thing and how it can help you.
Maybe you've been struggling for years to gain control of your eating, only to find yourself on the endless cycle of restricting and bingeing, gaining and losing weight.
You probably know dieting isn't the answer but you have no idea what else to do to be in right relationship with food and your body.  Or perhaps you'd just like some new tools and strategies to feel more at peace with whatever you choose to eat.
If you identify with any of the above, I know I can greatly uplevel your learning by providing coaching and support in conjunction with the reading.
So here's what I'm gonna do….
A Live & Eat Fearlessly Summer Book Club – me and 6 special women reading this transformative book together.
We'll meet once a week via teleconference for 60-90 minutes over 8 weeks to discuss each chapter, and I'll provide breakthrough coaching and guidance, and my own personal best practices to help you implement and integrate.
We'll also have a secret Facebook Group for daily connection, celebrations and accountability.
The cost will be just $297, or two easy payments of $159
(This includes your book and a special introductory lesson from me, and some other surprises I have up my sleeve!)
Starting SOON.  And for real, just 6 spaces.
So if you'd like to permanently transform your relationship with food this summer, in a fun, easeful and super-supported way (no dieting or deprivation involved) don't wait to express your interest.
Email me at michelle@unlockyourpossibility.com right now and tell me why you want to be part of this group!