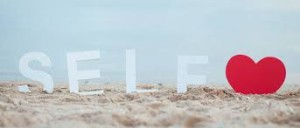 How was your Valentine's Day? Did you practice the tips for self-love that I shared with you last week?

If there's one thing I know with 100% certainty, it's that being loving toward yourself in thoughts and actions is an essential part of healing your relationship with food.
And I know it's not easy, especially when you feel disappointed in yourself or physically crappy because you overate or gave into your cravings again. The whole food thing can make you feel downright unlovable.
In fact, I started to write an article about that last week – but I didn't send it. To be honest it felt a bit too vulnerable (and frankly a little embarrassing) to be sharing just how unlovable I used to feel when I was still stuck in a doom loop of binge eating and food restriction, and I didn't want to be a downer on Valentine's.
I mean, how could I be worthy of love when I had such a shameful, secretive eating habit? When I obviously had so little willpower or control of myself… When so much of my energy and attention went to food and my body at the expense of my work, my partner and my kids… When I squandered money on excess food, retail therapy and other attempts to fill myself up because I felt so empty inside… When I snuck out of social situations to "hide and go eat"…. When I was irritable and impatient with my family because I was so mad at myself and my inability to change my habits…
What's lovable about any of that?
I hated ALL of it. I wanted to disown every little drop of it. And I certainly didn't see how to be loving toward myself coming from that place of perpetual self-judgement and shame. I wanted to crawl out of my own skin!
It's really painful to remember those days, so I scratched the article and sent some nice tips on self-love instead. Confession: I let my lingering shame get the best of me. (Living & Eating Fearlessly is a practice, not a perfect!)
But then I realized, if there's even one woman out there who feels the same way (and I know there is… maybe she's you), she needs to know she's not alone, and I knew I needed to share how I once felt. Because having a painful relationship with food jacks up every area of your life… relationships, career, money, sex… ALL of it.
So if you ever feel unlovable or powerless, or maybe even start to wonder if there's something wrong with you because you haven't been able to overcome your food and weight challenges, I want you to know that there is light at the end of the tunnel.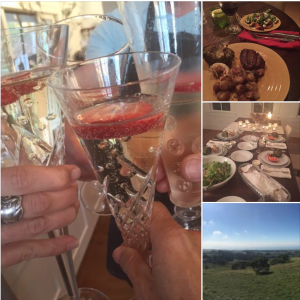 My life and my relationship with food is vastly different now. In fact I had the best Valentine's weekend ever, living and eating fearlessly all the way. I savored real food. I savored LIFE. And I enjoyed every morsel of it without an ounce of fear, guilt or retribution.
In fact, I created a fun photo album on my Facebook page if you want to check it out, so you can see what living and eating fearlessly looks like.  Check out my pics here (You've gotta see the dive bar we went to… YIKES!)
All of this is possible now because I changed my approach. I stopped waiting until I fixed my eating and my body to be loving toward myself. I realized that I had a lot of false beliefs about food and eating and I changed them. I said NO to the shame, and I remembered that no matter what I may be dealing with around food, there is nothing wrong with me, and that changed everything.
So if you are experiencing any of these feelings, I can help you. I can light the path for you and show you the way reclaim your freedom with food.
That's why I've decided to hold two special calls in which I'll be sharing the steps I took to heal my relationship with food and embrace this delicious, sensual life I now get to enjoy.
3 Weight Loss Myths That Drive Smart Women To Overeat
Thursday, March 5
5pm PT/ 8pm ET
 How To Detox Your Relationship With Food So You Can Live & Eat Fearlessly (For Good!)
Thursday, March 12
1pm PT / 4pm ET
To register for these free calls, click here. You'll automatically be signed up for both, but it you can't make one or the other no worries, you'll get the recordings!
I hope you'll join  me for these calls, because what you learn will impact not only how you relate to food, but it will open you up to a whole new way of embracing LIFE.
Click here to reserve your spot on the calls now!
Love & nourishment,
Michelle