Happy Fearless Friday!  I'm so excited to share this week's video with you because it's a total game changer.
There's something you may be doing without realizing it, that's stopping you dead in your tracks from creating the life you really crave.
It comes down to 3 simple words – and if you really want to Live & Eat Fearlessly, you've got to get them out of your vocabulary…
Want to know what they are?  Watch the video now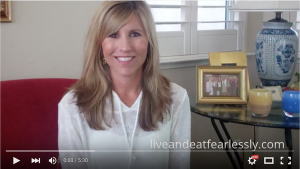 What's the #1 killer of dreams and desires? Your words. Not even the words you say out loud, the ones you say inside your own head without even realizing it.
Specifically these 3 words:  "I can't because"
Have you ever noticed how often you say those words in your head? Particularly when you're contemplating something that might really move you forward in your life.  Something you're truly hungry for.
When you use this phrase you immediately take yourself right out of the possibilities for feeding that hunger.  There's no discussion, no ifs ands or buts, just an immediate rejection of that tender, beautiful hunger.
The good news is, you can train your mind to notice these words and catch them before they take you out.
So here's my coach's challenge assignment for you this week:
I invite you to make a list of all the places in your life where you are saying "I can't because."  Big things, small things, whatever it is, just notice where you're saying it and write down what the reasons are, like so:
I want to do/say/be/have ______________ but I can't because _____________________.
You may even start to notice patterns…  maybe most of your "I can't because" reasons are related to money, or to past experiences, or to what other people would think.  These are super important, so make a note of any patterns you see as well.
Get it all on paper, without judgement, and then next week I'll show you how to reframe them so you can tap into new possibilities to feed yourself from the inside out!