You may have heard me say that pleasure is an essential ingredient for a healthy relationship with food.   You simply MUST eat foods that give you pleasure in order to achieve optimal metabolism, appetite balance, and even nutrition.
What I hear all the time in response to this is, "But Michelle, that's my problem! I eat TOO much pleasurable food.  I can't stop!" 
Or, "There's no way I can trust myself with pleasurable foods – If I gave myself permission I'd be out of control and blow up like a balloon!"
Can you relate?
Well there's a good reason for this and I share it in today's episode of Fearless Friday: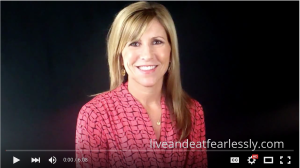 Click here to watch the video!
Here's why it can sometimes be a rollercoaster ride with pleasurable food, and why you may have developed a bit of what I call "pleasure phobia."
Overeating pleasurable food is often a natural overcorrection from being deprived. As soon as we make something forbidden it triggers an intense desire for that thing.  So when you've been restricting or depriving yourself of a food you love, the moment you open the door that inner rebel comes rushing in and consumes everything it's been missing out on.
Also, at this point your mind is likely telling you "Better get it all right now because after today we're never having this again."  It can feel like The Last Supper, so you rationalize that this is your last chance to take all you can get, because tomorrow it's off the table again.
When you finally "break down" and eat that pleasurable food, you're very likely in an anxious state,meaning your body is surging with stress hormones such as cortisol, which actually desensitizes you to pleasure.  This means it takes a lot more of whatever you're eating to get the pleasure you're seeking.
In that anxious, guilt-laden state, it's highly unlikely that you are bringing much awarenessto the pleasurable food you're eating.  In fact, you're very likely completely checked out so that you don't have to think about what you're doing.
Maybe you're eating mindlessly in front of the TV, or you're all up in your head with judgement and mind chatter.  Therefore you're not even really receiving any real pleasure from that food, your brain is not registering the experience, and so the satisfaction switch never gets flipped.
The truth is, when you truly give yourself permission to enjoy a pleasurable food with presence and complete awareness (and without a side of guilt), it's very unlikely you'll want to eat a whole bag of Hershey kisses or tray of brownies.  In fact, you'll be surprised at just how little it really takes to feel satisfied and move on.
Remember, pleasure is a nutritional requirement and a SOUL requirement.  No matter what your experience has been in the past, making pleasure with all kinds of food a practice is your ticket to freedom.
For more best practices to detox your relationship with food and Live & Eat Fearlessly, check out all the other videos I have for you at http://liveandeatfearlesslytv.com.  And don't forget to subscribe while you're there 🙂