Woohoo!
I'm so excited to introduce you to my new weekly video series…. Fearless Friday!
Each Friday I'll be bringing you my best practices, insights, tools and learning around what it takes to Live & Eat Fearlessly.
And to kick us off, I'm taking on a challenge that I've been hearing a lot lately – and that is, "Why can't I stick to my food plan?"
Maybe you tried a new diet or cleanse in January and started off strong, but before long you "fell off the wagon."  You're SO not alone!
But before you slip into judgement and decide that you must be seriously deficient in willpower, know this:  Food plans don't work.
Discover why in today's video: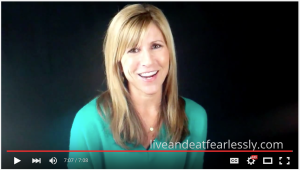 Food plans (aka those bright, shiny prescribed by-the-day, by-the-meal eating plans that we see in magazines and books) are highly attractive, because it seems someone has taken the guesswork out of "what to eat".  They may give you a sense of certainty or control – because let's face it, as humans we all crave certainty and control.
And that's great…. Until  it's not.
If you've fallen off food plan after food plan, you may be tempted to judge yourself, but I assure you that it's the methodology – not YOU – that's flawed.
Food plans simply aren't sustainable for a number of reasons, but here are 4 just to get you started:
1.  Diets don't work – period.  What is a food plan but a diet? Let's call a spade a spade.
2.  A food plan may be nutritious, but it fails to address your need for nourishment.  The experience of nourishment involves more than nutrition alone.  For example – on a cold afternoon that's 20 below, a chilled salad might be nutritious, but it may not be all that nourishing.
Plus, your nourishment needs change from day to day, and if you're just trying to follow the food plan like a robot, at some point you're likely to come up feeling less-than-satisfied.  And what happens then? You're hungry for more….  Enter sneaky craving for some off-plan food that makes you feel like a junkie looking for a fix.
3.  A food plan triggers feelings of restriction and deprivation.  For many people this activates our inner rebel or "hungry child."   Even if you're eating enough food, it's been shown that even mental restriction increases our desire to eat – as you brain is reacting to thoughts of starvation.  And the survival response always outweighs willpower.
4.  A food plan fosters black or white thinking.  You're either ON or OFF, right or wrong, good or bad.  And what about those days when life dishes you an unexpected challenge or schedule change, and you're unable to play by the rules?  You're much more likely to consider yourself a "fail" that day and go eat everything you've been missing out on.
If you DO decide to try a food plan, it's all about how you hold it. It can be a great way to learn a new recipe or try a new food that you then add to your repertoire.
And, sure it can give you a sense of control for a little while, but do we really ever have control over life?
Life flows, our appetites flow, our nourishment needs flow.  We all have needs that go beyond food – for freedom, variety, flexibility etc. If you really want to be free with food, it's best to align with that.
Perhaps the best food plan of all is the day-to-day, moment-to-moment question: "Of all the options that are available, what would truly nourish me now and for the long run."